Benjamin Moore Paint
The perfect paint color can complement any room in your home, by providing a splash of color or by tying in the color scheme of the room. J.B. Short Carpet One Floor & Home has an incredible selection of quality paint from one of the top brands in the industry, Benjamin Moore. A fresh coat of paint can change the aesthetic of your room and make it feel like a new space. We are proud to be an exclusive retailer of Benjamin Moore paints and stains.
Professional homes designers recommend refreshing your paint every two to three years. It'll make it look more fresh and vibrant and stand out from the rest of the homes in your neighborhood. If your home wanted a makeover then painting is ideal in terms of cost and time. As trends come and go, it is important to keep your paint up to date so it can match the rest of your home décor. Rooms in your home such as bathroom and kitchens are exposed to moisture. Excess moisture in those rooms can lead to damage and encourage harmful mold and mildew growth. Painting your home at regular interval can help protect against damage caused by moisture.
Our Benjamin Moore Paint Selection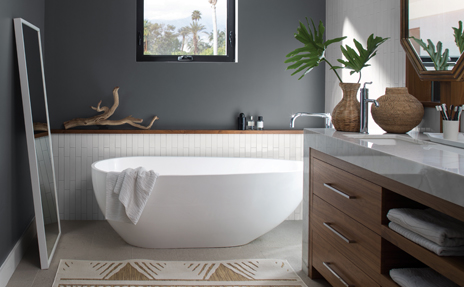 Benjamin Moore has been providing homeowners with paint and finishes of the highest quality for over 100 years, and has developed a reputation of value, reliability and durability. Below are a few of the collections we offer in our showroom for you to take a look at.
Benjamin Moore also offers a variety of exterior paints as well. The Aura® exterior paint, like its interior version, includes color lock technology with added durability. Aura® Grand Entrance will make your doors and trim beautiful and in great condition for many years.